Truck Security Units
Mag Guard's solution to meet Natural Resources Canada, Explosives Regulatory Division (ERD), and the Canadian Nuclear Safety Commission (CNSC) mandate to ensure the safe overnight storage of both radioactive and explosives materials while out in the field. Our solution meets the requirements set forth by ERD's Explosives Regulation under Section 63 (s1) and the CNSC's Physical Security Requirements for Sealed Sources during Transport.
Mag Guard's portable security units allow companies to meet compliance for unattended storage using this system.
Physical Specifications:
1. Weight: < 4 kg
2. Size: ~ 0.3 x 0.3 x 0.3 m
3. Packaging: Housed in a durable waterproof case
The units use a key fob to arm and disarm the system. The key fob is inserted to disarm the system. The cord is removed from the Satellite Transmission Unit (STU), and passed thru the equipment to be secured and cord is placed back into the STU. The key fob is then removed.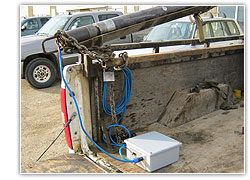 If no key fob is used or the cord is breached, an automatic notification is sent to the user via phone call, SMS text or email via the call list established by the user.
For more information and pricing about these units, please contact Darren Desiatnyk at 1-403-348-2001 or This email address is being protected from spambots. You need JavaScript enabled to view it.