Features & Benefits
The G2 System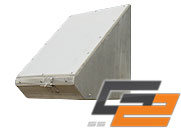 The hardware portion of the G2 security system, is a stand alone, battery powered, security, access control and magazine tracking solution specifically designed and safety tested for the explosives industry. The installation does not require telephone or power lines, making it ideal for remote locations.
All of the hardware components are fully enclosed within NEMA-4 weatherproof housings. All door switch assemblies and other remote sensor packages are also contained within robust sealed housings to provide years of maintenance free operation.
The G2 Security System complies with letters 58 and 61, meeting ERD regulations and is approved by the Franklin Institute for use in all magazine applications.
The G2 Hardware Contains:
An accelerometer (a vibration/motion sensor), this sensor will detect movement and/or vibration of the asset. Any unauthorized movement will be detected and an alarm message sent to user.

Global Positioning System (GPS) which determines the location, speed, direction, and GMT time correction. This precise system is used to pin point the exact location of the magazine. If the magazine or asset is moved, the system will automatically go into "track" mode and follow the asset using its GPS capabilities. Also has two "check-ins" every 24 hours giving you a fixed GPS location.

Anti-Tamper solutions are integrated into the door switch wiring and circuitry, along with three other Anti-Tamper devices that help assure system security.

The option for future expandability of both analog and digital sensors, application specific expanded data transmissions, and solar powered rechargeable battery packs. Auxiliary sensor packages may include: PIR (passive infrared detector); optical sensors (senses light incursion into an enclosed space); proximity sensors, radiation sensors, thermal sensors, etc.
G2 Key Fob
The Key Fob is what makes our system the easiest and most convenient one to use.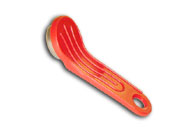 The G2 hardware is designed to detect and "read" a digitally encrypted I-Button® which has been assigned to a specific authorized "User" of the asset and can be set up to authorize multiple magazine locations. A door can be opened and closed multiple times as long as the key fob is in place.
24/7 Monitoring and Alerts
The Satellite Network Operations Centre (S.N.O.C.) receives the satellite data generated by the G2 equipment and it is interpreted by MGM's servers. This data is presented online via a client specific secure log-in "User Interface". This data is available 24/7 in real time from anywhere in the world. If there is an alert or an alarm, clients are automatically notified based on their preference via text messaging, email or automated voice messaging which can be provided to landline, cellular or satellite phones.
All of the data for each specific magazine in stored indefinitely on our servers for all of your record keeping and reporting responsibilities. All a customer has to do is login to their account to view this data. This data includes all routine access to the magazine along with daily reporting, alerts and alarm information.
Coverage Area